Fatman Returns is Chapter 20 of the manga series Ratman.
Characters in order of appearance
Summary
Trivia
The name is an obvious play on the film the Batman Returns. Fatman's vehicle even resembles the Tumbler (aka the Tank style Batmobile) from the Nolan Batman films.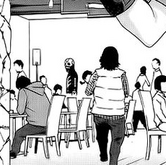 Ad blocker interference detected!
Wikia is a free-to-use site that makes money from advertising. We have a modified experience for viewers using ad blockers

Wikia is not accessible if you've made further modifications. Remove the custom ad blocker rule(s) and the page will load as expected.