Smartphone IS-K05

Device Type:
Smartphone
Functions:
Communications
GPS
Media/Audio Player
Internet Access
Digital Camera
Software Applications
Side-Effects:
Also used as a covert receiver for S Gene energy if the Hero Booster Program is downloaded.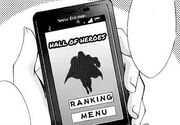 This is the product in which
IS-KA's
sponsored company
AD-Bank
, markets to the public. Due to the media sensation of its commercial hero, and the company's marketing campaign, this is their hottest item and stores are unable to keep them in stock for very long. Some of its most popular apps are the
Hall of Heroes Ranking Menu
and the
Mr. Boxers Air Drying Game
. The smartphone itself is a highly advanced device, but what the public doesn't know is that the IS-KA05 is also a receiver for S Gene energy, provided that the user downloads the
Hero Booster Program
.
Apparently, IS-KA had planned to make the other lower-ranked heroes jealous of his exploits, thereby driving them to purchase his company's product and download the Hero Booster Program. What appeared to be a special-effect gimmick was actually a ruse to hide its true purpose. Once the heroes obtained the Smartphones and the program, they were steadily given doses of the S Gene's energy, thereby making them stronger and more metally unstable. After a week the heroes began running berserk.
Trivia
The Smartphone looks like a real life iPhone.
Just like its real life counterpart, the IS-KA05 also has its predecessors called the IS-KA02, IS-KA03 and the IS-KA04.